What's on and events happening at Deverell Hall
During the year, there are various groups and hirers that use Deverell Hall to host their particular events. From table top sales to flower shows, from craft fairs to charity run events helping to raise money for local organisations such as The Rowans. These events happen throughout the course of the year, and this page highlights what's happening at Deverell Hall this year. Please scroll down the page to view a selection of some of the events happening at Deverell Hall.
Rowans Support Group Meetings
Every year, we have a Rowans Support Group who meet 5 times in the year. This group of volunteers play a vital role in helping raise much needed funds for The Rowans Hospice - a local hospice based in Purbrook. They provide community support throughout the year, from coffee mornings, to plant sales and quiz nights. The following dates have been booked by one such support group.

Saturday 13th April 2019 - Race Night starts at 7.00pm
Ticket Price: £8.50
To buy a ticket please call 023 9261 5132
Admittance by ticket only!

Saturday 15th June 2019 - Quiz Night starts at 7.00pm
Saturday 21st September 2019 - Harvest Market starts at 10.00am
Saturday 16th November 2019 - Christmas Market starts at 10.00am
Info & Further Details
You can view all the events coming up at Deverell Hall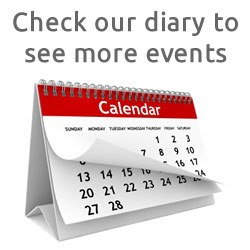 This page only lists a small percentage of events, bookings and regular groups that use Deverell Hall every day, week or month. You can see a complete list of events and bookings coming up in this year ahead by checking our online diary.
Check Bookings Diary
Deverell Hall Preschool - For children from 2 to 5 years