Hiring the Upstairs Conference Room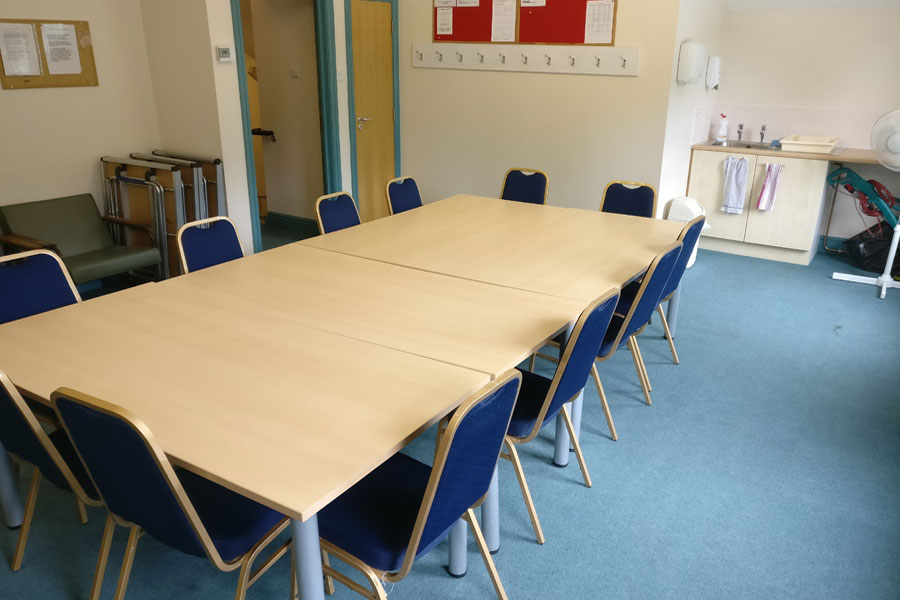 If you are hiring the UPSTAIRS ROOM then normal access is by its own external door at the rear of the building. A toilet is provided at the foot of the stairs, then this stairway leads to the UPSTAIRS CONFERENCE ROOM and there is a motorised stairlift for disabled access too. The stairs have been well designed for climbing and feature wide treads for safety.
The Upstairs Conference Room is carpeted, and has 4 large conference tables, with padded chairs and will hold approximately 25 to 30 persons. It is particularly suitable for group meetings, writers groups, discussion groups or can be used for small public meetings.
Features & Benefits
Room Size: 4.5 Metres Wide, 8.5 Metres Long.
Maximum user capacity: 30 persons.

Covid-19 SECURE Policy in place - Upstairs Conference Room Maximum 25 persons at any one event.

Seating: 18 Plastic Chairs, 26 Padded Chairs.
Tables: 4 Large Conference Style Tables, 2 Small Tables.
Centrally heated with gas fired radiators.
Disabled access via electric stairlift.
Shared Toilet at bottom of entranceway.
Upstairs Room - the upstairs conference room is laid to carpet.
Kitchenette is modern and clean. Water Urn, Kettle and General Use Cups, saucers etc.
CCTV for protection of people and property.
Check to see if the hall may be available for hire
You can see inside the hall and take a look at some of the features and benefits it has to offer. If you would like to make a bookings enquiry, you are most welcome to contact us. To see what availability there may be at the time you are thinking about, please check our online diary which should show you if the hall may be free at the time you would like to hire it.
Check Diary